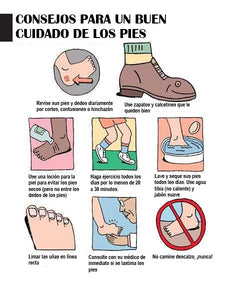 WHY DO YOU NEED DIABETIC SHOES?

¡SÓLO TIENE DOS PIES! TOME CUIDADO DE ELLOS

¿Por qué necesita zapatos diabéticos?
El nivel alto de azúcar en la sangre contribuye a la mala circulación de la sangre. Esto puede llevar a daño de los nervios en los pies, una condición llamada neuropatía. La neuropatía puede causar entumecimiento en los pies, lo cual puede hacer que sea difícil para usted para darse cuenta si usted se corta o lesionar el pie. Si deja un corte sin tratamiento, puede llevar a una infección. La mala circulación puede hacer que sea difícil de curar los cortes y las infecciones, que pueden progresar y conducir a amputaciones si no se tratan correctamente. Por eso, cualquier problema del pie deberían ser llamados a la atención de su médico si usted tiene diabetes.
El calzado diabético debe contener características específicas y ser diseñado y construido de una manera que alivie las condiciones del pie a las que los diabéticos son propensos. Los mejores zapatos para diabéticos incluyen las siguientes características y cualidades especiales:
• Interior protector que está hecho de un material suave, y costura que no sobresalen para no causar irritación.
• Diseño de profundidad suplementario que proporciona un adecuado sin presión y puede acomodar encartes de orthotic gruesos.
• Espacio en el lugar de los dedos para el movimiento del dedo del pie y evita la presión en los dedos del pie.
• Ligeras suelas acolchadas que facilitan la movilidad y la estabilidad, y reducen los impactos en el pie.
Además de zapatos para diabéticos aquí hay algunos consejos para el cuidado de sus pies.
***


YOU ONLY HAVE TWO FEET! TAKE CARE OF THEM

Why do you need Diabetic Shoes?
High blood sugar contributes to poor blood circulation. This can lead to damage nerves in your feet, a condition called neuropathy. Neuropathy may cause you to numbness in your feet, which may make it difficult for you to realize if you cut yourself or injure your foot. If you leave a cut untreated, it can lead to an infection. Poor circulation can make it difficult to heal cuts and infections, which can progress and lead to amputations if not correctly treated. That's why any foot issues should be called to the attention of your doctor if you have diabetes.
Diabetic footwear must contain specific features and be designed and constructed in a way that alleviates the foot conditions to which diabetics are prone. The best shoes for diabetics include the following special features and qualities:
● Protective interior that is made from soft material, and stitching that doesn't protrude so as not to cause irritation.
● Extra depth design that provides a pressure-free fit and can accommodate thick orthotic inserts.
● A deep toe box that provides extra room for toe movement and avoids pressure on the toes.
● Lightweight, cushioning soles that facilitate mobility and stability, and reduce impacts on the foot.
Besides diabetic shoes here are some tips for taking care of your feet.
---