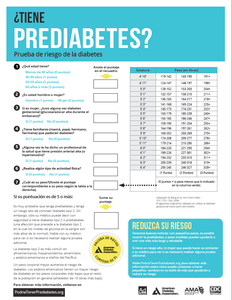 DO YOU HAVE DIABETES? TAKE THIS EXAM TO SEE IF YOU MIGHT!
¿TIENE DIABETES? ¡TOME ESTA PRUEBA PARA VER SI PUEDE SER PROBABLE!
Diabetes no solo surgen por ser hereditario, sino puede ser encontrado en personas que no tiene historia familiar de diabetes tambien. Puede estar a riesgo si:
• Tiene sobrepeso u obesidad
• Tiene prediabetes
• Tiene enfermedad de ovario poliquístico
• Tiene diabetes gestacional
• Es hispano / latinoamericano, afroamericano, indio americano, nativo de Alaska
• Tiene 45 años o más
Tome esta prueba para ver si tiene probabilidad de ser PREDIABETICO. Eso significa que deberia ir a su medico a verificar si tiene diabetes.
***


DO YOU HAVE DIABETES? TAKE THIS EXAM TO SEE IF YOU MIGHT!
Diabetes is not only hereditary, but can be found in people with no family history of diabetes as well. You could be at risk if you:
• Are overweight or obese
• Have prediabetes
• Have polycystic ovary disease
• Have gestational diabetes
• Are Hispanic/Latino American, African American, American Indian, Alaska Native (some Pacific Islanders and Asian Americans are also at risk)
• Are age 45 or older
Take this test to see if you might be PREDIABETIC. Meaning you should go to your physician to confirm any chances of diabetes.
---