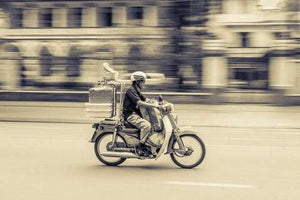 10 REASONS TO USE YOUR LOCAL PHARMACY'S FREE DELIVERY SERVICE
10 razones para utilizar el servicio de entrega gratuita de su farmacia local:
1. EL PRECIO. Es completamente gratis. No es necesario pagar los gastos de envío mensuales.
2. AHORRE DINERO Y GAS. Puede ahorrar en la tarifa del autobús, gasolina para su automóvil e incluso en el uso de su vehículo.
3. AHORRE TIEMPO PARA HACER OTRAS TAREAS. Un recado menos para correr, abre mucho espacio para hacer otras cosas importantes. La entrega gratuita ahorra tiempo, energía y, ocasionalmente, charlas incómodas.
4. NECESIDADES DE ENFERMEDAD CRÓNICA. Si tiene algún tipo de enfermedad crónica, diabetes, artritis o lo que tiene, es importante hacer un seguimiento de tener medicamentos en existencia en el hogar. La entrega gratuita le permite levantar el teléfono para solicitar el reabastecimiento de su gabinete de cocina sin salir de su hogar.
5. SE OLVIDA DE RECOGER SUS RECARGAS DE PRESCRIPTION. La entrega gratuita viene con una llamada de cortesía para ver si está en casa y le permite recordar que va tener recetas en su puerta pronto.
6. NO SE PREOCUPE DE PERDER SU MEDICACIÓN EN EL CORREO. El servicio de entrega de farmacia no depende de un cartero para entregar medicamentos. En cambio, disfruta de un toque personal con un empleado de farmacia que lleva sus recetas a su puerta.
7. REDUZCA LOS RESIDUOS MÉDICOS. Disminuye la probabilidad de que las píldoras no utilizadas se pierdan en los vertederos o en el suministro de agua.
8. MAYOR PRECISIÓN MÉDICA. Permite que la farmacia tome tiempo con cada receta individual para satisfacer sus necesidades médicas.
9. MAYOR EFICIENCIA, funciona muy bien tanto para usted como para la farmacia. Le permite completar una cosa más de hacer y farmacia para trabajar según las prioridades.
10. ENTREGADO A SU CONVENIENCIA, ya sea en el trabajo o en el hogar.
¡URS Pharmacy ofrece entrega gratuita a su conveniencia!
***
1. THE PRICE. It's completely free. No need to pay for monthly delivery charges.
2. SAVE MONEY AND GAS. You can save from bus fare, gas for your car and even on usage for your vehicle.
3. SAVE TIME TO DO OTHER TASKS. One less errand to run, opens up plenty of room to do other important things. Free delivery saves time, energy and occasionally, awkward small talk.
4. CHRONIC ILLNESS NEEDS. If you have any types of chronic illness diabetes, arthritis, or what have you it is important to keep track of having medication in stock at home. Free delivery allows you to pick up the phone to request to refill your kitchen cabinet without leaving your home.
5. FORGET TO PICK-UP REFILLS. Free delivery comes with a courtesy call to see if you are home and allows you to remember you have prescriptions coming to your door.
6. DON'T WORRY ABOUT GETTING YOUR MEDICATION LOST IN THE MAIL. Pharmacy delivery service does not rely on a mail-carrier to deliver medication. Instead you enjoy a personal touch with a pharmacy employee bringing your prescriptions to your door.
7. REDUCE MEDICAL WASTE. Lessens the probability of unused pills getting lost in landfills or water supply.
8. GREATER MEDICAL ACCURACY. Allows for the pharmacy to take time with each individual prescription, to meet your medical needs.
9. GREATER EFFICIENCY, works great for both you and pharmacy. Allows you to check off one more To Do thing and pharmacy to work based on priorities.
10. DELIVERED TO YOUR CONVENIENCE, either at work or at home.
URS Pharmacy offers free delivery at your convenience!
---